Dental Implants in Morgan, Utah
Are you looking for a friendly dentist that provides restorative dentistry services? At Morgan Dental, our team of friendly experts is dedicated to providing quality dental care and esthetic solutions such as dental implants. Our passion drives us to exceed your expectations in patient satisfaction by providing personalized attention and top-notch service in all aspects of restorative dentistry.
Why Dental Implants?
Dental implants have allowed dentists worldwide to help patients receive permanent restorations to improve their quality of life. Having a missing tooth or even multiple missing teeth can cause significant issues to your overall dental health and detrimental effects on your confidence. Due to unique dental technology, our team at Morgan Dental can help you get a brand-new dental implant in Morgan, UT, and make your smile complete again.
Dental Implants & Restoration
When most people think of a dental implant, they may think of a single-tooth dental implant restoration. Although that is correct, there are two parts to a dental implant, and they can be used for more than a single tooth restoration.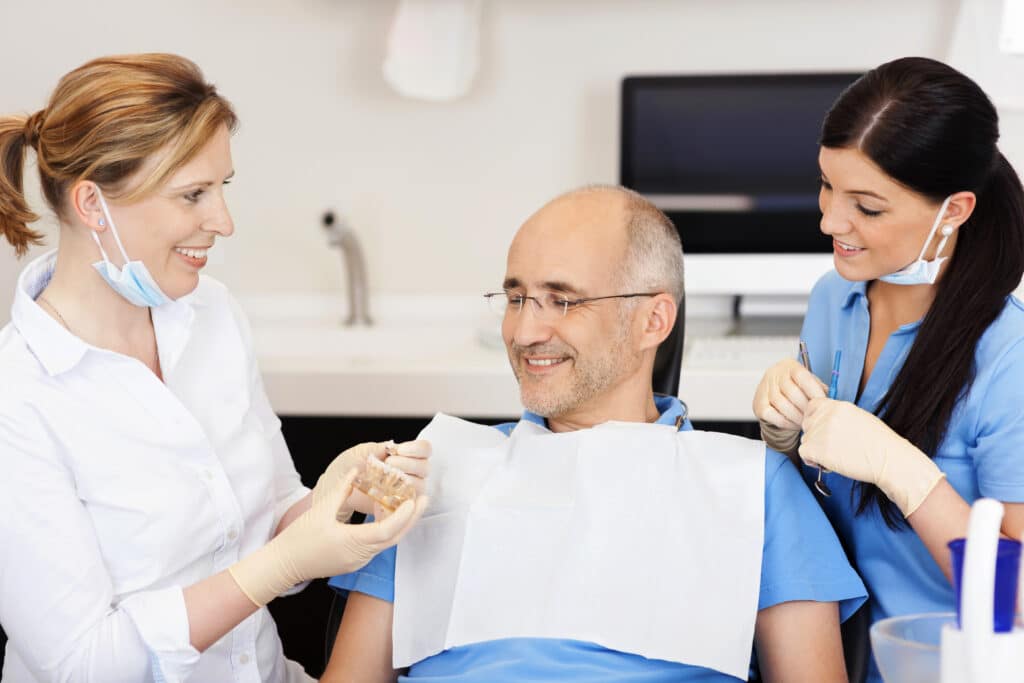 Implant: The implant is a titanium rod placed into the jaw bone surgically to act as the new root for single-tooth restoration or a foundation for multiple tooth restoration. 
Prosthetic:  In a single-tooth dental implant, the restoration is a tailor-made artificial tooth that will be secured onto the implant, for example, a crown. The crown is the visible part of the implant and can be color-matched to your natural teeth, giving it a life-like appearance.
Other restorations that are placed on dental implants for support include:
Implant-supported bridge

Implant-supported dentures or overdentures

All-on-4 dentures
Dental Implant Benefits
A missing tooth can cause gums and jawbone to deteriorate in a specific area. When you chew, dental implants stimulate your jawbone as natural tooth roots stimulate it. This stimulation prevents jawbone degeneration from missing the tooth and root.
Restorations placed on dental implants are made of porcelain, a material as strong as our natural teeth enamel. And all restorations are made to fit the look and size of your natural teeth. Replacing an empty gap with a new tooth will increase your self-esteem in your smile and overall appearance.
What is the Process?
The process begins with a thorough dental examination to ensure you are a good candidate for an implant. The implant is placed into the jawbone, after which a temporary crown is placed on top. Over time, the implant fuses with the bone and permanently replaces your missing tooth. 
Finally, a permanent crown is attached to the implant, resulting in a natural-looking and long-lasting restoration. Don't let missing teeth hold you back – schedule an implant consultation today with Dr. Crowther! At every step, we prioritize your comfort and satisfaction.
How to Care For Your Teeth with Dental Implants
Implants are a long-term investment in your oral health, and you want to ensure they stay healthy and strong for years to come. Brush twice a day with a soft-bristled toothbrush and floss daily to remove any food particles that may be lodged between your teeth. Avoid smoking or excessive alcohol consumption, which can affect the implant's stability and lead to gum disease.
Regular check-ups with your dentist also play a vital role in maintaining your implant's longevity. Remember, proper care and maintenance of your dental implant will keep your smile bright and beautiful for many years to come.
Morgan Dental Implants
Get ready for the next level of oral care! With Morgan Dental, you'll experience comprehensive treatments designed specifically for your needs. From crowns and bridges, cosmetic fillings and veneers, implant replacement, or complete smile makeovers – look no further than Morgan Dental for an exceptional mouthful of healthy teeth and gums!
If you have a missing tooth or teeth and have been wondering if you have options, please get in touch with us! Our team at Morgan Dental in Morgan, Utah, can help educate you further on the procedure and why it is a great option. Let's get started on restoring your beautiful smile.